Greenleaf
Neighborhoods at Nocatee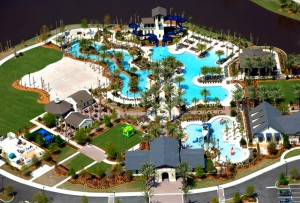 About Nocatee – Nocatee was recently named the third fastest selling master planned community development in the United States.  The booming area of Nocatee, with its incredible amenities and park like setting, is drawing people in from all over the world.
The Town of Nocatee covers a vast area of land, over 13,000 acres, with 85 percent of Nocatee in Northern St. Johns County and the other 15 percent in Southeastern Duval County. Currently only 25 percent developed, Nocatee is comprised of seventeen neighborhoods and is home to over 3,000 families.
Residents have access to unparalleled amenities such as Nocatee Splash Water Park, The Nocatee Preserve, multiple community parks, dog trails, playgrounds, nature trails, picnic areas, sports fields, tennis courts, basketball courts, fitness center, and even a zip line.  The Town of Nocatee has been approved for up to three golf courses and developers have future plans to begin building a course in the near future. Continuing with Nocatee's environmentally friendly theme, Nocatee is the first community in Northeast Florida approved for use of Electric Vehicles. Use of Electric Vehicles is approved anywhere inside of Nocatee.  Electric cart paths are set to connect all of the neighborhoods inside Nocatee to the town center.
About the Greenleaf Neighborhoods – The Greenleaf area of Nocatee is comprised of three different communities, each offering unique homes and floor plans from numerous builders, designed to suite the majority of home buyers. Residents of The Greenleaf Neighborhoods at Nocatee are continually pleased with St. Johns County excellent school system.  Greenleaf Elementary just opened for the 2014-2015 school year, which is walking distance to the homes in all three Greenleaf neighborhoods at Nocatee. Adjacent to the Greenleaf Village community is Greenleaf Park. This inviting and picturesque park rests on 10 acres and boasts beautiful canopy covered nature trails, a dog park, sports play field, children's playground, picnic areas, and a community pavilion.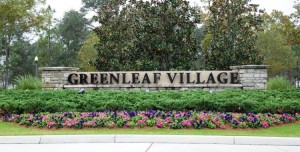 Greenleaf Village in The Town of Nocatee is a private and peaceful community located close to US-1 and I-95 on the western side of Nocatee. This western location provides residents with easy access to Jacksonville and St. Augustine. The Community offers homes for families of all sizes with floor plans ranging from 1,400 to 4,400 sq. feet, 2 to 5 bedrooms, and 2 to 4 baths. Builders for the community include, David Weekley, Providence, Ryland, Mattamy, and Standard Pacific.
Greenleaf Lakes is the newest and final neighborhood being build in the Greenleaf area of Nocatee. Design your custom home with David Weekly Homes, Standard Pacific Homes or Providence Homes.
Greenleaf Preserve at Nocatee
Greenleaf Preserve is an impressive community of custom estate homes in Nocatee. The private community consists of only 41 home sites set among preservation areas. Builder ICI Homes offers beautiful and functional custom estate plans which range in size from 2,800 sq.ft. to 5,000 sq.ft., 3-5 bedrooms, and 2-5 baths.
Thinking about buying a new construction home? Let the new home experts at CashBackFlorida.com help you for FREE and get a 1% cash back home rebate on your new construction home purchase. Click here for details.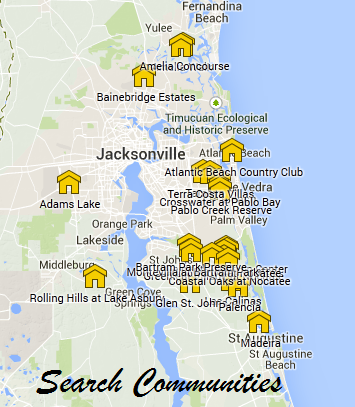 This website is owned and operated by First Coast Realty Associates, a licensed Florida real estate brokerage company.  Information in this post may not be completely accurate. Please seek legal and tax representation in legal and tax related matters. The owners of this website assume no responsibility for the accuracy of the content on this page.